The ABLE advantage
Get special tax advantages
Income earned on ABLE savings will not be taxed. Plus, some states allow for state income tax deductions for contributions made to an ABLE account.

Help grow your savings
ABLE programs offer account owners multiple investment options to help make their savings work harder for them. Plus, most ABLE programs offer a debit card option so account owners can access savings on-demand, at their convenience.

Maintain current benefits
ABLE accounts allow individuals to save without jeopardizing their eligibility for SSI, Medicaid, and other public benefits.
---
ABLE savings show promising growth
Since ABLE programs were just introduced in 2016, savers have only had two years' worth of contribution opportunities. It's also important to note that ABLE accounts have an annual contribution maximum of $15,000.

With these two factors in mind, it's encouraging to see that ABLE account owners have already built a foundation of savings. As of the end 2018, average ABLE account balances across savers of all age ranges exceeded $5,000 for the first time ever.

ABLE savings are often intended to be used for near-term needs and resources. For this reason, it's not surprising to see that average account balances are level across different account owner ages as opposed to increasing with age as they might be in a retirement or alternate savings account.
Average ABLE Account Balances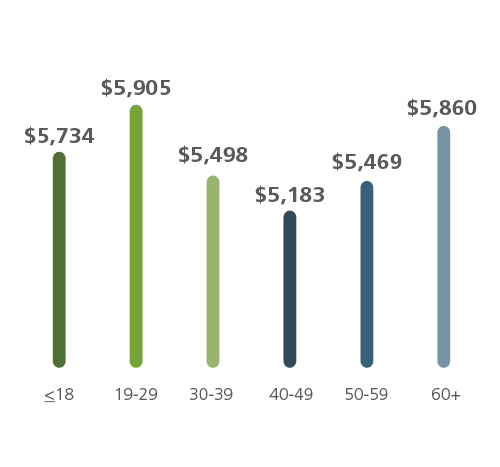 Account Owner Age Range
---
Building a more secure future
At the close of 2018, we managed over $57 million in ABLE account assets, representing an increase of nearly $40 million year over year. On average, savers set aside $578 with each contribution.
$57,
364
,
562
in total assets
$
578
average contribution

Automated methods make saving easier
Automatic saving methods, which include payroll direct deposits and recurring bank contributions, make it easier for savers to contribute to their ABLE account on a frequent basis. Many Ascensus-administered ABLE accounts received automatic contributions in 2018. This data suggests that account owners are saving consistently to build their ABLE funds.
20
%
of accounts use automatic saving methods
How do savers access their ABLE funds?
Ascensus offers an integrated checking and debit card option to enable account owners to easily access their ABLE savings. Nearly half of all ABLE account owners choose to take advantage of this option, demonstrating that families not only use ABLE to build long-term savings, but also to pay for everyday disability-related expenses.
43
%
of accounts use the checking option
---
Giving the gift of ABLE savings
Family and friends can pitch in to help ABLE account owners build their balances through our Ugift® service. Gift givers are provided a unique code for the account, which allows contributions to be made easily and securely online or by mail. Ugift has already helped ABLE savers add over half a million dollars to their accounts.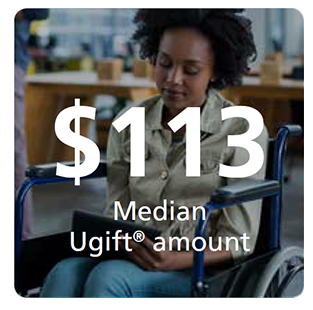 $461,740
in ABLE gifting contributions